Foundation Repair Services
ABI Corporation offers several types of foundation repair solutions. Our highly trained staff will suggest solutions based on your home's needs.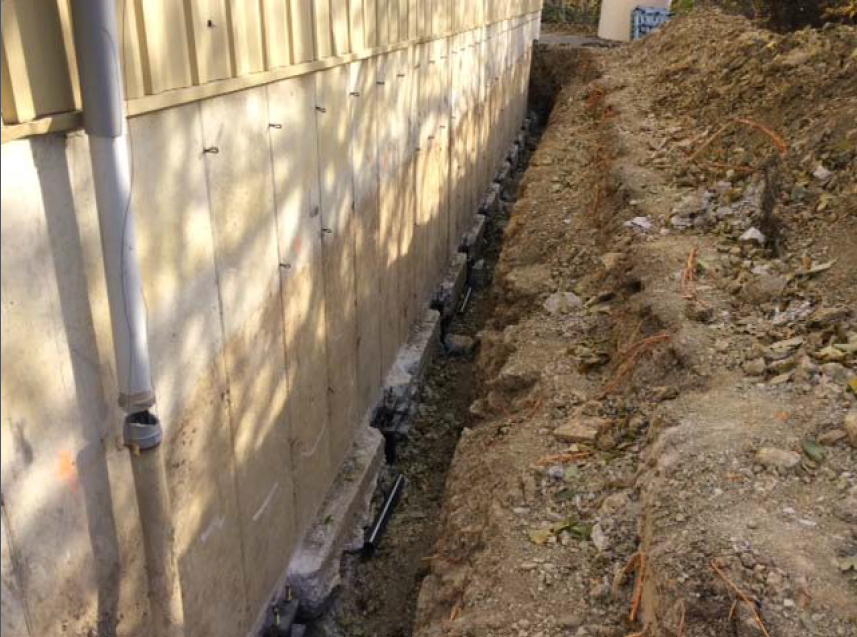 Piering
Helical Pier System
A helical pier is a type of steel shaft which is similar to a very large screw that gives a foundation support for different types of structures. In locations which have soil conditions unfit for regular cement or concrete foundations, helical piers or piles are implemented.
Helix bearing plates are pre-welded to the shaft; this makes it possible to hydraulically "screw" the shaft into the ground. Soil disturbance is minimized by the unique design of Grip-Tite's piers; Grip-Tite piers are engineered with a true helix design. (Minimization of soil disturbance also protects the environment against soil erosion.) In this design the second and/or third helical plate takes the same entry or path as the first plate takes when the shaft is positioned in the earth.
For repair of an existing structure, the helical piers are driven into the ground. Once the pre-determined torque level is reached, a bracket is positioned on the steel shaft under the footing of the structure. The weight of the structure is thus transferred to the piers. Finally, the structure can be stabilized or back leveled.
This method of support has been in practice for over two centuries. In recent years, it has become a favored method for both contractors and engineers.
The advantages of using a Grip-Tite Helical Pier System are:
Repairing Existing Structures
New Construction (instead of micro piles, caissons, geopiers, or other deep foundational systems)
Protects environment from Soil Erosion
Replaces the need for Over- Excavation
Time & Cost Effective
Push Pier System
The Push Pier System is a Grip-Tite solution which repairs foundation settlement. The Grip-Tite Foundation Push Pier System utilizes steel tubes which take advantage of the weight of the structure; a hydraulic method drives the piers into bedrock or other earth strata which are able to support structures of heavy mass. The piers or piles are strategically positioned between 6 to 8 feet. After the tubes are cinched into the bedrock (or other strata), an underpinning bracket is positioned under the footing of the pier. This allows the load/weight of the structure to be shifted to the pier. The existing structure is now stabilized by the Grip-Tite Foundation Push Pier System and protected by further settlement.
The advantages of using a Grip-Tite Push Pier System are:
Repairing Existing Structures
Replaces the need for Over- Excavation
Time & Cost Effective
Slab Piers System
Are you noticing settling, uneven concrete floors, or a failing concrete slab? This is repairable without extracting and replacing the entire foundation. Concrete floors and slabs are leveled and stabilized by The Grip-Tite Slab Pier System.
High quality strong steel tubing is driven below active soil. These steel tubes support the concrete. Additional strength and uniform support is provided by the installation of reinforced concrete bulbs under the slab at every pier placement. By implementing this system, the weight or load is transferred from the slab to the top of the pier and to the deeper, firmer soils.
Next, the Grip-Tite Slab Pier System attaches heavy duty steel brackets to the faulty slab. Steel piers are then driven beneath the faulty slab; this is essential as it effectively stabilizes the soil strata. Finally, hydraulic equipment raises the concrete slab to the correct height, re-stabilized and brackets are removed.
The advantages of implementing the Grip-Tite Slab Pier System are:
Heavy Equipment Not Required
Installed Year Round Installation
Possible for Limited Access/Tight Space Areas
Time & Cost Effective
Wall Straightening/Pull-backs

In some instances, Kansas City Metro homeowners may experience a foundation wall leaning or bowing in. This hydrostatic pressure is the result of water buildup in the soils surrounding your home which is most prevalent during wet seasons when the clay soil has absorbed more water causing it to expand and add pressure against the foundation walls.

Bowing or leaning walls can cause significant damage to your home. Primarily, they are unsafe, as leaning walls pose the threat of falling in. Bowing or leaning walls are also often accompanied by other signs of damage such as cracks that can allow in even more moisture, furthering the problem.

ABI Corporation offers permanent structural solutions to ensure the safety of your home. When your walls are leaning or bowing we straighten them using metal plates to stabilize and secure basement and retaining walls due to the excessive outside soil pressure. Once the pressure has exceeded the original design strength of the wall you will see cracking followed by leaning or bowing of basement walls. ABI Corporation will "pull-back" your walls with metal anchors consisting of an inside wall plate, an outside anchor and a high strength rod tying them together. We can install dead man anchors. This will help keep the soil around your home from causing too much pressure on the walls. These anchors are installed in the ground around your foundation with a plate inside the wall. They can then pull the wall back into shape and add support to the structure for years to come. Dead man anchors can distribute this pressure, straighten your walls, and keep them from sustaining further damage. This can save you a lot of money in the long run. Your foundation is the most integral part of your home, and ABI Corporation will help get you back to a solid foundation with our permanent structural solutions.

Call ABI Corporation to meet with one of our evaluation specialists to fix your foundation repair problems today!
Foundation Crack Repair
Prevent structural damage to your home by repairing the cracks in your foundation as soon as possible because the crack can widen over time if not repaired in a timely manner and that would allow water to penetrate into the basement.

Cracks in foundation walls have a variety of causes, including foundation settlement, bowed walls or improper drainage. They can also have serious effects on the integrity of your home or building.

Epoxy can be injected into a crack that is causing a structural problem. Epoxies can add a great amount of strength to a foundation and at times can even exceed the strength of the surrounding concrete.

Do away with extra work and worry – Coming home to a wet basement after a rain storm or a snow melt is not a pleasurable event. A leaking foundation crack can cause damage or even destroy personal property stored in the basement such as rugs and furniture. Let ABI Corporation help alleviate your worries and fix your cracks before your basement and valuables become damaged.

Cracks happen. ABI Corporation can fix that. Everyday our team provides permanent structural solutions to local Kansas City Metro homeowners at reasonable rates. Call us today and speak with one of our evaluation specialists.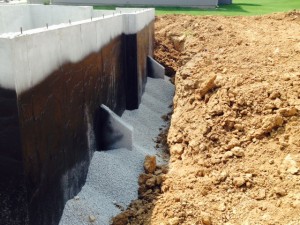 Action Waterproofing By ABI Corp
Action Waterproofing is a polymer modified asphalt emulsion membrane developed for use as a high quality below grade waterproofing barrier. Action Waterproofing's low vapor permeance, outstanding adhesion, and superior combination of hardness and flexibility make it a great choice for any below grade waterproofing application. Action Waterproofing is an air cure membrane that will be fully cured in 24 hours. It can be used in conjunction with Protection Drain Board to achieve the best system for your specific applications.
Installed By Experienced Technicians
Action Waterproofing is installed by experienced technicians. ABI Corporation has 20 years' experience in waterproofing and has completed thousands of Residential Waterproofing Jobs. Our technicians are trained and monitored to ensure the highest quality application.
Surface Preparation
The walls and footings must be smooth, dry and clean. Concrete wall and mortar joints must cure a minimum 16 hours before Action Waterproofing is applied. Repair any cracks in excess of 1/16" along the footings or in the wall surface and all honeycombed areas with a non-shrinking grout. Fill all couds around tie holes, recessed ties and other small voids with an acceptable fiber reinforced asphalt roofing cement or cementitious repair material.
Membrane Instillation
After the wall and footing surfaces have been properly prepared, spray, roller or brush apply Action Waterproofing over the entire wall surface (to the designated grade line) and along the perimeter. Particular emphasis should be paid to wall joints and the joint between the walls and footings. Action Waterproofing is applied at a rate of 20-25 sq. ft. per gallon in residential applications. A two pass application is generally recommended to ensure sufficient dry mil thickness without excessive running or puddling. To ensure a smooth, consistent spray pattern, warm the material to 100-130 degrees ferenheit immediately prior to spraying. Protection Drain Board can be installed over Action Waterproofing to protect the membrane from damage by the backfill, to assist in draining water away from the foundation and/or to insulate the foundation wall.
Drainage Requirement
Action Waterproofing is designed for use with a foundation drainage system consistent with local codes and good construction practices. A typical exterior drainage system consists of either 4" perforated drainage system covered with gravel and filter fabric. The drainage system should channel water to either an operating sump pump or to daylight. The grade should always slope away from the foundation.
Warranty
Action Waterproofing warrants its material and its material and its system applications for a period of up to 10 years. For specific warranty terms and conditions, contact your local Action Waterproofing representative.
Generally, in people with frequent outbreaks, It is used to help reduce the number of unpleasant problems. Zovirax will not treat herpes, but it can lessen the symptoms of it. Many drugstores offer to their customers Viagra. Did somebody tell you about Viagra Cialis? Most health care providers think the efficiency of Viagra is well documented. Also known as impotence is defined as the inability to maintain an erection suitable for intercourse. This can be an early warning symptom of grave medical problem. Depression can dampen your interest in sex and can reason erectile dysfunction.